Background                                                               
As CCO looks to the future we recognize the tremendously important role played by the next generation of leaders. The goals of this study group are: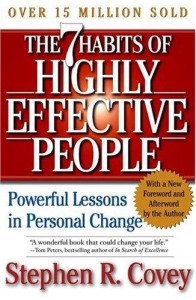 Form ways of Incarnational Leadership thinking – through studying and applying The 7 Habits of Highly Effective People as well as CCO principles of leadership.

Instill a Teaching/learning mindset – through group work and collaboration, we can help each other to be better leaders.

Establish a common understanding and vocabulary – by working through material and specific concepts, we can use common terms that apply to CCO leadership.
This Study Group will include many aspects, which will be an encounter with leadership for each of us.  Our meetings will be built around a number of areas of learning: advance reading, discussion, videos, and optional bonus material.

Schedule                                                                   
Feb: 

Acquire Book;




Read: Part 1: Paradigms and Principles: (15-62 = 47pp);

March:

Discussion Group;

Read: Habit 1: Be Proactive, Personal Vision (66-94 = 28pp)

April:

Discussion Group;




Read: Habit 2: Beginning with the End in Mind (96-144 = 48pp)

May:

Discussion Group;




Read: Habit 3: First Things First: Personal Management (145-182 = 37pp)




Read: Paradigms of Interdependence (185-203 = 18pp)

June:

July/August:

Break




Read: Habit 4: Think Win-Win (204-234 = 30pp)

Sept:

Oct:

Nov:

Dec:
Key Concepts :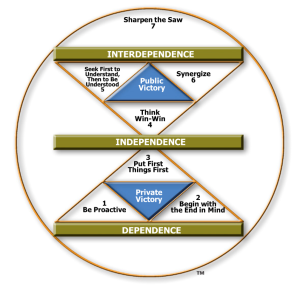 Personality and Character Ethic

Paradigm

Paradigm Shift

Habits

The Maturity Continuum

P/PC Balance

Inside Out Approach

Social Mirror

Proactivity

Circle of Influence/Circle of Concern

The Two Creations

Leadership vs. Management

Rescripting

Principle Centred

Mission Statements

Four Generations of Time Management

Time Management Matrix

Quadrant II

Roles and Goals

Quadrant II Tool

Gofer Delegation/Stewardship Delegation

Interdependance

The Emotional Bank Account

Six Major Deposits

Six Paradigms of Human Interaction (win/win, etc)

Five Dimensions of Win/Win

Empathic Listening

Four Autobiographic Responses

Synergy

The Third Alternative

Negative Synergy

Valuing Differences

Force Field Analysis

Four Dimensions of Renewal

Balance

The Upward Spiral

Inside Out Again