Catholic Christian Outreach (CCO) is a university student movement dedicated to evangelization.
We challenge students to live in the fullness of the Catholic faith
with a strong emphasis on becoming leaders in the renewal of the world.
My work with CCO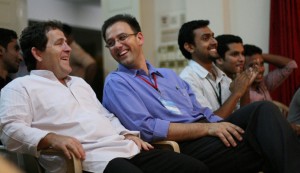 In 2001, I was asked by the CCO Board of Directors to be the interim Executive Director after the previous CCO President stepped down. After six months of prayerful consideration the Board asked me to permanently fill the role of CCO President. I have continued to serve in this role as we have experienced accelerated growth nationally and internationally.
A Highlight of my role so far
My role takes me to places beyond Canada as CCO has a number of partnerships with international organizations. I am always amazed to see how God is working the lives of people in a very powerful and yet similar way. Whether at a World Youth Day, with students in Africa, or at a leaders meeting in Europe, when young people are seeking God, they are encountering him in a very personal way. The greatest highlights of my missionary service always involve individuals. Listening to a student give a testimony of how their life has been changed forever by Christ, and then seeing this impact their decisions about career, family, service, etc. is truly inspiring.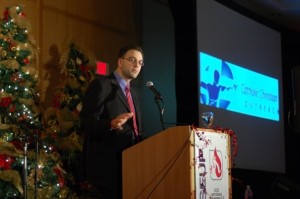 In working with international Catholic leaders, I have been blessed to see how many of the resources, that CCO has developed out of a need for effective tools on campus, have been deeply appreciated and utilized by many others. CCO Faith study materials, the Ultimate Relationship Booklet, and others, have been requested all over the world and used in other youth, parish, outreach, etc. settings. Leaders have expressed their appreciation for these materials and have helped to get them translated into numerous languages. In this way, CCO's campus mission has overflowed into providing a blessing outside itself.
How I have developed?
I have personally grown in many ways. My faith has been strengthened tremendously. I have seen God provide for our family's needs. I have seen God work in the hearts of people whom others had thought were hopeless. I have learned to pray and rely upon the Lord much more. I have also grown significantly as a leader, both in practical skills and expertise but also through the experience of growing an organization. I have also been blessed significantly in the numerous friendship and connections with people – literally with thousands – throughout Canada and the world.
On going prayer requests
Leadership is both a privilege and a responsibility. I appreciate the prayers of others for me, and our missionary family, as we endeavor to follow God's call in our lives. Please pray for wisdom and humility in leadership and decision making for the movement, for our family, and for those we serve.