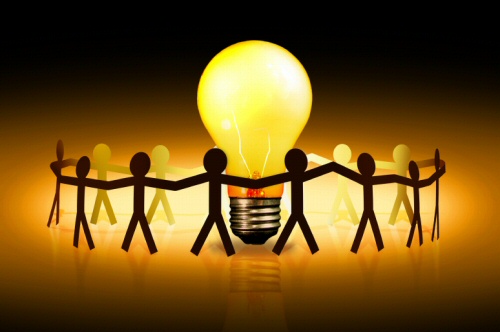 Synergize
Outline of discussion:
1.Watch Next 2 Videos on Foundation Principles:
– P/PC Balance in Organizations
– Emotional Bank Account
2.Review from last month:
– Habit 5: Seek First to Understand, Then Be Understood
– Homework: Start with questions; Observe your questions to statements ratio; Only use questions. How did this go?
3. Summarize and Share:
– Look at this chapter content only – ask 1 person to summarize chapter (not application, just content), invite group to fill in clarify any gaps.
– Open Group Discussion: What struck you? Why?
4. Application:
– Valuing Differences Exercise
– Coaching Each Other in Synergy Exercise: Identify a situation in which you desire greater teamwork and synergy. Share this with your partner. The Coaching partner then asks only questions to help the other find new insights, starting with: What conditions would need to exist to support synergy? What can you do to create those conditions? Etc.
5. Final Closing:
– Homework: Apply the results of the coaching conversation to the situation.   
– Read next chapter: Read: Habit 7: Principles of Balanced Self-Renewal (285 – 307 = 22pp); Inside Out Again (309-319)
– NEXT MEETING – FINAL GRADUATION – 2 WEEKS – Dec 10th 
6. Bonus
– Video: Getting To Yes – William Ury